Interior Trim Products
Neaton manufactures a wide array of interior parts that are used on the world's leading automobiles. Designed and built to exacting quality standards, our trim parts have the stylish appearance and perfect fit to complement your vehicle. More than just appearance, our trim parts are designed and tested to meet stringent industry standards. For example, our pillar garnishes meet or exceed all federal side impact standards. Well designed, manufactured and tested as appropriate, our interior trim parts are high quality, durable and highly functional – not to mention, quite stylish.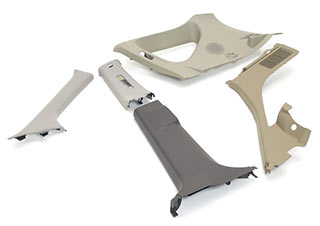 Pillar Garnish
With numerous decorative variations, the pillar garnish provides a pleasing appearance and contribute to vehicle safety. We develop and test to protect the occupant by absorbing impact during a crash. The structural design of a pillar garnish is specific to each car model. The finish of a pillar garnish can be fabric wrapped or textured resin color matched to be in harmony with the vehicle's interior.
Scuff Plates
Scuff plates offer a pleasing appearance while entering or exiting the vehicle. Our scuff plates can be designed to include an aluminum trim insert, lighted or simply textured resin.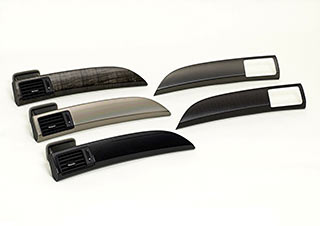 Decorative Trim
Decorative trim is a highly demanded interior feature. Neaton is able offer our customers several options to produce decorative trim.
Film: Simulated wood and metallic finishes are available. Neaton can apply the decorative finish by vacuum forming a film sheet or an ink transfer process.
Paint: With Neaton's automated paint process, we can paint low gloss, semi-metallic and high gloss piano black finishes.
Genuine Wood or Aluminum: Neaton utilizes our supply base to produce the decorative trim that we then attach to our trim component.
Leather: Our facility in Mexico specializes in the application of leather. Examples of our leather wrapped products include Steering Wheels, Driver Airbag Covers, Armrests and Shift Knobs.